iolo technologies LLC

About iolo technologies, LLC
iolo technologies, LLC develops patented technology and award-winning software that repairs, optimizes, and protects computers and digital devices, enabling users to enjoy their full computing potential by keeping devices running fast and reliably. With a global sales presence in 33 countries and products in 11 languages, tens of millions of people have used iolo's products for their PC optimization, security, and data recovery needs since 1998. Today, iolo is widely recognized by both consumers and industry experts as a worldwide leader in the system utility software market. The Company's product line, distinguished by its flagship performance optimization suite System Mechanic®, is sold through more than 23,000 retail storefronts around the world and its software can also be purchased from leading major e-tailers, as well as a multitude of domestic and international distributors and resellers. Founded in 1998 and headquartered in Los Angeles, California, iolo is a wholly owned subsidiary of Phoenix Technologies Ltd.
Click Buy:


An award-winning PC optimization suite designed to fix, speed up and maintain PCs so they run like new forever. Currently the #1 best selling PC tune-up product in the US, Canada, UK, France, and the Benelux region according to NPD and similar sources, System Mechanic® is used by more than 36 million consumers worldwide to keep more than 75 million computers running at peak performance. As the only tune-up software to include iolo's industry-first Tune-up Definitions, as well as its patented ActiveCare® automatic maintenance technology, System Mechanic represents a new, smarter approach to PC tune-up.
Buy Now System Mechanic Discount Offer (SM)
 

Make your PC run like new! Protect your data from malware and intruders. Junk files, fragmented drives, and registry clutter will slow down your computer and cause system errors and crashes. System Mechanic Pro combines 6 powerful products to optimize your registry, defragment drives and memory, remove unwanted files, manage installed programs, speed up your internet connection, securely erase sensitive data, and remove malware.
Buy Now System Mechanic Professional Discount Offer.


System Shield AntiVirus & AntiSpyware eradicates stubborn PC pests and blocks future infection without system slowdown so you can shop, bank and socialize online without worry.
Buy Now System Shield AntiVirus & AntiSpyware Discount Offer.

Never lose precious files, photos, email, songs or movies again: iolo technologies' Search and Recover™ rescues accidentally deleted files from any drive, disk, camera, music player, or memory card.  Proprietary StrongScan™ and SmartScan™ technologies let you recover information after the worst PC accidents and disasters – even years after the data was lost.
Buy Now Search and Recover Discount Offer.

DriveScrubber securely erases data, exceeding military standards for secure deletion. Keep your sensitive information out of the wrong hands.
Buy Now Drive Scrubber Discount Offer.


System Mechanic + Search and Recover bundle.
Buy Now System Mechanic + Search and Recover Bundle Discount Offer.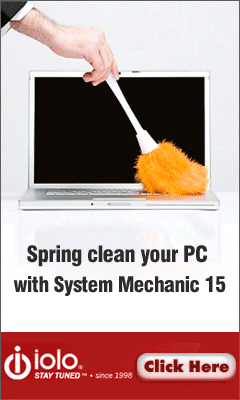 Keep your PC running fast, clean and error-free with System Mechanic's award-winning arsenal of tools that prevent problems before they arise. Repair stubborn errors, improve startup and program speed, tune system settings, eliminate performance bottlenecks, clean up clutter, and prolong your PC's life
System Mechanic 15 Month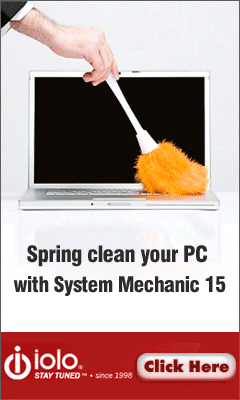 In just minutes you'll know exactly what is slowing your computer down. You'll get a customized report detailing all your computer's errors plus how to fix them!
System Checkup
Promotion!
Get System Shield AntiVirus & AntiSpyware for $19.95. Save 50%!
Expiry: 12/31/16
Get 50% off System Mechanic 16 Pro, System Mechanic 16 or System Mechanic Business.
Expiry: 12/31/16
Get a massive 60% off either System Mechanic 16, or System Mechanic 16 Pro.
Expiry: 09/30/16